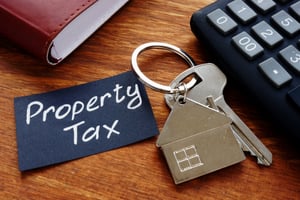 During an annual escrow review your insurance, tax projections, and if necessary, mortgage insurance will be reviewed for the upcoming year. Your mortgage servicer will add the annual payments for all of your escrow expenses (typically all insurance premiums and property taxes) and divide the total by 12 to calculate your monthly escrow payment.

Your new monthly payment will be compared to your current escrow amount. If the new payment is higher due to an increase in your property tax and or insurance premium, two things will happen. The first will be an increase in your monthly payment to match the required escrow per review. Secondly, any current shortages will need to be collected; that is the amount your escrow account has fallen behind. Typically, borrowers are allowed 12 months to pay their shortage, if necessary. For example, if a borrower's shortage is $1,200, their payment will increase an additional $100 per month until the shortage is paid. The payment will then automatically return to the new amount calculated to meet the escrow requirements.

If your new escrow amount is lower due to a decrease in property tax or insurance premiums you will have a surplus. In the event of a surplus, your mortgage servicer will send you a check for the surplus. You will receive a copy of your escrow account review/analysis and it will determine if your payment will remain the same, increase, or decrease for the upcoming year.
What are the Benefits of an Escrow Analysis?
While an escrow account and its payment allocations may seem like an added expense, it is a necessary part of your mortgage and is required by certain loan investors. It also comes with some benefits.

Instead of having a large property tax bill at the end of the year that must be paid at once, it is divided into 12 smaller amounts. Furthermore, you don't have to actually make the payment to your county, parish, or city; your lender will pay it directly from your escrow account. The same is true for any insurance premiums. With your escrow account, you can be confident that your property taxes and insurance premiums will be paid on time.

Property taxes and insurance are an essential part of homeownership and your mortgage. Your lender will help you to understand how escrow works and how it will affect your monthly payment. For over 90 years the expert staff of loan officers at Standard Mortgage (NMLS#44912) have been helping people find the right solutions for their mortgage needs.