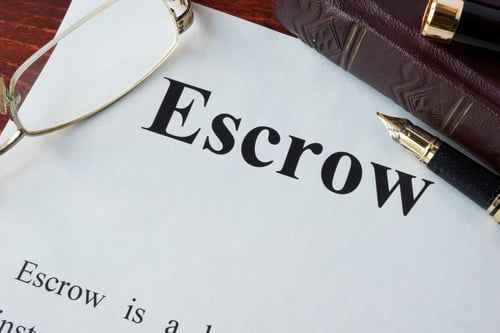 Throughout the home purchasing process and other mortgage transactions, you will hear the term "escrow." Escrow is one of the most questioned topics around home buying and homeownership. Depending on the context in which this term is being used, it can mean a couple of different things. Let's take a closer at what they're used for and how they work.
What is Escrow?
Escrow is a legal agreement in which a third party holds a significant amount of money or assets until a specific condition has been executed.
Types of Escrow Accounts
As it relates to mortgages, there are two types of escrow accounts. When a buyer puts an offer in to purchase a home, an escrow account is used to protect the buyer's good faith deposit. Once you have closed on your purchase or refinance, an escrow account may be used to hold your funds to pay for insurance and taxes.
Home Purchase Escrow Accounts
A good faith deposit, or earnest money deposit, is required when you sign a home purchase agreement. Once the purchase is executed, this deposit will go towards your down payment. A third-party or escrow account is established to hold this deposit. This strategy protects both the home seller and home buyer.
Property Tax and Insurance Escrow Accounts
After purchasing your home, your lender will establish an escrow account on your behalf to hold monies for taxes and insurance (including homeowners, flood, and mortgage insurance) if you elect to do so or are required per the terms of your mortgage. If you are using an escrow account, your mortgage company will remit payment annually for your taxes and insurance policy. Each month a portion of your payment will be set aside to cover these expenses so that when your taxes and insurance are due, there is enough money in your escrow account. Because the total sum of these bills fluctuate from year-to-year, your lender will likely base the escrow portion of your payment for the coming year on what you paid the year before. Many lenders will require 2 extra months of payments to be held in the account to mitigate an unforeseen increase in taxes and/or insurance. If too much is collected, you will receive a refund.
Escrow Account Benefits
The biggest benefit of the home purchase escrow account is that it protects you during a real estate transaction. When you sign a new home purchase agreement, instead of giving your deposit or down payment directly to the seller, it is protected in an escrow account.
For homeownership, this account ensures that you have the available funds to meet your property tax and insurance obligations. Instead of having to come up with a lump sum of cash as these bills come due, you will already have the money in a dedicated account. Another benefit is that your mortgage servicer will manage the payment of these bills on their due date.
The most important part of the home buying process is finding an experienced, knowledgeable mortgage loan officer. For over 90 years, the expert staff at Standard Mortgage (NMLS#: 44912) has been helping home buyers and homeowners.