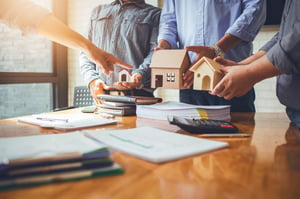 You probably see ads for mortgage lending companies all over the place. From big banks to small ones, from credit unions to mortgage lenders, financing sources for home purchases are seemingly everywhere. What you may not see or notice as often are mortgage servicing companies; however, you will more than likely deal with your mortgage servicing company longer and more often than you do with your loan originator after closing. However, this isn't always the case. Standard Mortgage Corporation not only originates loans, but we service all of our loans for the life of the mortgage. But what exactly does a mortgage servicing company do, here is everything you need to know.
What Does a Mortgage Servicer Do?
A mortgage servicer handles the administrative tasks related to your mortgage after it closes. Your mortgage servicing company will process your monthly mortgage payments, send out statements and other important correspondence, and manage your escrow account, if applicable. This company will be your point of contact for all questions regarding your mortgage and handle any loss mitigation options or foreclosure if necessary.
Mortgage servicers typically work with loans backed by government agencies (Ginnie Mae) and government enterprises (Fannie Mae and Freddie Mac) and service loans on behalf of these investors. While many lenders sell your loan's servicing rights to a third-party company to be managed after they originate it, some companies, like Standard Mortgage, will hold onto the servicing rights and manage it from beginning (origination) to end (payoff).
What is the Difference between a Mortgage Lender and Mortgage Servicer?
A mortgage lender may be a variety of financial institutions, including a bank, credit union, or other financial institution that offers home loans for consumers. In order to apply for a home loan your lender will have you submit a mortgage application and collect a wide range of data including your credit score and history, as well as financial documents in order to determine your ability to repay the loan. Once approved, an offer may be made on a home, and when the loan is closed your lender will disperse the funds needed to complete the transaction. Choosing the right mortgage lender and loan officer is a critical aspect of the home buying process. Unless your lender retains the mortgage servicing rights (which only certain companies have the ability to do) and services your loan, this may be the last time you interact with them on this specific transaction. If the servicing rights are sold to a third-party mortgage servicer, you will be notified either during closing or at least 15 days before your first payment is due to your new servicer. After the transfer, you have a 60-day grace period, during which you will not be assessed late fees in case you accidentally send your monthly payment to your former servicer instead of your new one. If your loan is transferred all of its original terms and conditions will stay the same, and your servicer will be your new point of contact for your home loan.
Your mortgage servicing company is comprised of several different areas of expertise. The servicer's main objective is to ensure that your mortgage account is credited correctly for every payment that you remit. Although you make your payment each month as one lump sum, that payment is broken up and remitted to different parties. The first is the investor or owner of the loan (for example, Ginnie Mae, Freddie Mac, and Fannie Mae are all loan investors), the investor owns the loan itself, while the servicer owns the right to service the loan. Most lenders do not hold onto the loan itself but rather they sell it to an investor to free up funds to continue to lend out to other customers. The principal and interest portions of your payment are both remitted to the investor.
Depending on your loan product, you may also be escrowing tax and insurance funds. Although your tax payments and insurance premiums are typically due annually to the responsible parties, a portion of your monthly payment is put into an escrow account and reserved to make these payments once they come due. Every year your servicer will send you an escrow analysis statement that shows all of the escrow payments received as well as amounts paid for your insurance and taxes. This statement will also let you know if there is a shortage in your account or if you payment will change in the upcoming year.
In addition to managing your payments and escrow account, your mortgage servicer is your point of contact for all other mortgage related questions (such as how or when you are eligible to cancel your private mortgage insurance, or how to get a check indorsed if you have been affected by a natural disaster). They will also be who you contact if you are struggling to stay on top of your monthly mortgage payments.
Should You Care What Company is Servicing your Mortgage?
In most cases, the home buyer will barely interact with their servicing company, unless there is a problem. However, it is important to be familiar with who your servicer is and always pay special attention to any communication you receive from them. Buyers typically cannot control who services their loan however, if you choose a lender like Standard Mortgage who is committed to retaining your loan you gain back that control. Being familiar and comfortable with your servicer gives you peace of mind that your loan is being well managed and your payments are being applied appropriately to the different invested parties.
While Standard Mortgage originates loans as a lender and services them throughout their life, they also acquire loans from other lenders and provide the same level of expertise for every mortgage. For over 90 years the home loan professionals at Standard Mortgage (NMLS#:44912) have been helping homeowners.