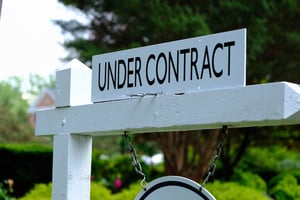 Whether you've looked at a dozen houses, or just one, made a dozen offers, or a single bid, after being pre-approved by your lender, the next goal is to get under contract on your new home. Being "under contract" means that you and the seller have agreed to certain and specific terms, in writing, for the sale of the home. However, before you sign on the dotted line, and those new keys hit your palm, there are a few more things to be aware of, and your lender can help you prepare to make your purchasing process as smooth as possible. Here are five tips that get you from under contract to closed.
Begin by providing the executed purchase agreement along with any addendums or counter offers to your lender. If you are working with a REALTOR®, they should be able to send these documents directly to your mortgage loan officer for processing.
Next, schedule any inspections that you would like to have completed on the property during your due diligence period. Typical inspections include a home inspection performed by an independent home inspector, termite, pest, and rodent inspection, and radon inspection, among others. Once you have all of the information that you need to make your final decision to purchase, your lender will order the appraisal for your new home.
Once the inspections are completed, you'll need to find or contact your insurance agent and obtain a homeowner's insurance policy, as well as a flood policy if it applies to your property. It is important to provide this information to your lender as soon as possible, your agent should also be able to send it directly to the lender as well.
This is also the time to provide your lender with your two most recent bank statements and pay stubs. While you provided this information when you were pre-qualified, more up-to-date information will be needed by your lender's processing and underwriting departments.
Lastly, stay in touch with your loan officer and lender's processing team, as they should with you as new progress is made toward closing.
For over 90 years Standard Mortgage (NMLS#:44912) has been helping homebuyers and homeowners with all of their mortgage needs.