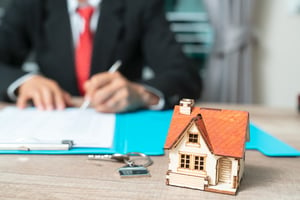 The home buying process is exactly that; a process. While it may seem complicated, our loan officers at Standard Mortgage are here to help guide you through the process. Before you begin shopping for a new home, it's vital to have your financing lined up. Below we outline the necessary steps for obtaining a mortgage for your new home and we will ensure you have a smooth experience!
Find a Mortgage Lender
Before you begin house hunting, it is helpful to have a dedicated loan officer from your chosen mortgage lender. An expert loan officer can help you with your pre-approval, determine which type of loan will work best for you, and answer any other questions you have along the way.
Get a Pre-Approval Letter for a Home Loan
A pre-approval letter lets realtors and home sellers know that you have access to the financing necessary to purchase a home. Submit a mortgage loan application to your expert loan officer through the pre-approval process. The loan officer will review your employment, income, credit and debt information to determine both your ability to become pre-approved, as well as how much you'll be able to borrow. Now with your pre-approval in hand, you are ready to go shopping for your dream home.
Mortgage Loan Processing (including obtaining an appraisal)
In most cases, the loan processing starts after you have found a home and have made an accepted offer to purchase it. You would then go back to your loan officer with the signed purchase agreement. The purchase agreement will provide the details on how much you're offering for the home, the seller's acceptance and any other information provided by the REALTORS®. Later, the mortgage lender will have the home appraised through a third party to make sure it's worth the amount that you have offered. During processing, all of the information that you have provided in the pre-approval process, the appraisal and purchase agreement will be reviewed by the lender's underwriter for final approval.
There's really not much for you to do during this step of the process. Just stay in touch with your loan officer and provide any documents or information that may be requested. Keep the lines of communication open.
What Happens During the Closing Process of a Home Loan?
The closing (or settlement) is the final step in the mortgage process. Clear property title has been confirmed and on your closing date, typically you, the seller, and a representative from your lender will meet to sign all of the paperwork, transfer money, and hand you the keys.
It may seem complicated, but it all begins with your mortgage pre-approval and working with your chosen mortgage lender and their dependable, experienced mortgage loan officer. For over 90 years the experts at Standard Mortgage (NMLS#: 44912) have been helping homebuyers.