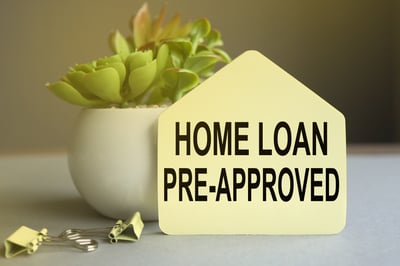 Shopping for a home can be a complex process starting with finding that perfect property and then finally being handed the keys. No matter what type of home you are planning to buy, or what type of mortgage you are using to finance it, the home buying process begins with becoming pre-qualified, however, a pre-approval can be even more beneficial. Home sellers and their agents expect buyers to be pre-qualified and are more likely to negotiate transactions when they know that the buyer can obtain financing. But how do you become pre-qualified, how do you receive a pre-approval, and what's the difference?
What is a Pre-Qualification?
A pre-qualification simply provides an estimate of how much a buyer can afford to spend on a home.
What is a Pre-Approval?
A pre-approval is an agreement between a buyer and lender for a specified period of time that states that they are eligible to finance up to a specific amount for the purchase of a home. This happens after a lender has verified a borrower's credit score and other financial documents. With this information, different loan options can be discussed, and the buyer will know exactly how much they have to spend.
What is Required for a Pre-Approval?
In order to obtain a pre-approval, there are a few things your lender will need to collect and verify, here is what you can be expected to provide in order to become pre-approved.
Credit Score
The credit score is a significant consideration for a lender to assess credit-worthiness and the ability to repay your loan. Most conventional loans require a score of at least 640. It is important to know higher credit scores receive lower interest rates. FHA guidelines also considers borrowers with a credit score of 640 eligible for financing with a down payment of 3.5%.
Proof of Assets
Bank and investment statements prove the ability to provide the means for a down payment and closing costs. Depending on the size of the loan being sought, these documents can also serve to confirm cash reserves on hand.
Proof of Income
W-2's, pay stubs, and the most recent tax returns are all typically required in order to substantiate the income claimed on a loan application.
Employment Verification
Stable employment and its corresponding income are necessary for lenders to assess the amount that an applicant can afford to finance. Two years of employment must be verified. Self-employed borrowers will have to provide additional documentation.
These are the typical items that are needed when seeking a mortgage pre-approval, and an experienced loan officer can guide you through the process. For over 90 years the experts at Standard Mortgage (NMLS#: 44912) have been helping people purchase and refinance their homes.