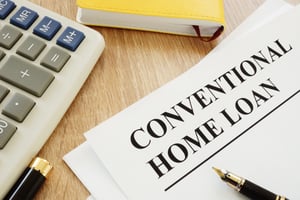 When the time comes to buy a home, you have a lot of options. While there is a lot to consider in terms of location, price, schools, amenities, and much more, it all begins with your mortgage. Before you even start to house hunt, having the proper financing in place is imperative. Additionally, you will need to choose a specific mortgage product and get pre-qualified before you go shopping. The type of mortgage you choose will likely be influenced by the location of the home, cost of the home, and your personal financial situation. Some loan products are backed by the government and may be the best option for you, conventional loans are not, and come with their own benefits.
Conventional Loans and Down Payments
With a conventional loan, you'll have several down payment options. If you put down at least 20% of the homes sales price, you can avoid having to pay PMI (private mortgage insurance), which will lower your monthly payment. If you are unable to make a down payment of 20% of the sales price, there are other payment schedules but you will have pay for PMI (private mortgage insurance). .
Various Terms Are Available
Because conventional loans are not backed by the government, they are not bound to the term regulations of those types of mortgages. This makes it much easier to customize your loan to meet your needs and goals. Terms typically range from 10 to 30 years.
Conventional Loans Can Have Expedited Loan Processing
Conventional loan processing and closing is typically faster than the processing and closing time related to Government loans, like bond, veterans affairs, and rural development. This is because typically, the government loans require a certain type of home appraiser and there are additional requirements associated with the loan.
Conventional Loans May be used to Finance Variety of Property Types
Conventional loan financing can be used to purchase a single-family home, Double, Tri-Plex, Four-Plex, Townhome or Condo. This property can be your primary residence, second home or investment property. Many government type loans are restricted to primary residences/single family homes.
If you are shopping for a home, the experts at Standard Mortgage can help you select the loan that is best for you. Entrusting your home buying process to a knowledgeable, experienced loan officer is essential. The experts at Standard Mortgage (NMLS#: 44912) are here to help and have been for over 90 years.