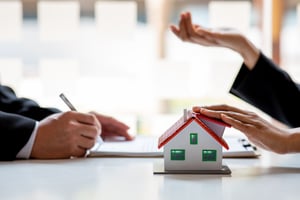 When you apply for a loan, your lender is required by the CFPB (Consumer Financial Protection Bureau) to give you a Loan Estimate. This is a standardized form that gives you important details about the mortgage you are applying for. This document includes all of the costs (down payment and closing costs) associated with the closing of your mortgage, interest rate and monthly payment as well as the total cost of your mortgage throughout the life of the loan (APR). It is essential to know what is included in this estimate and what each item means. Since this is a standardized form you can use it to easily compare mortgage loans. Let's take a closer look at the mortgage loan estimate.
What Does Your Loan Estimate Include?
The Loan Estimate lays out the details of the loan that the lender is offering you, should you decide to proceed with the loan. Your Loan Estimate includes the date it was issued (always make sure you are looking at the most current Loan Estimate), applicants' names, property addresses and sales price. In addition, the Loan Estimate will provide your loan term, if you are doing a purchase or refinance, product, loan type, loan ID (this is your loan number), and if your interest rate is locked. If the rate is locked, it will tell you how long your rate is locked in.
Loan Overview for Your Mortgage
This section should match what you have discussed with your lender. It details the loan term, purpose, product, loan type, loan ID (which is your unique identifier), and the rate you have locked in and when it will expire.
Loan Terms
This section details all of the loan specific information you have discussed with your loan officer including: Loan amount, interest rate, monthly principal and interest payment, prepayment penalty (if ones applies), and a balloon payment (if one applies).
Projected Payments for Your Mortgage
The monthly payment breaks down the amount of your payment that is applied to the principal balance, the interest on the loan, and mortgage insurance, if applicable. This section will also include the estimated details of your escrow account. The escrow account will be used to collect funds for taxes and insurance from each monthly payment. This amount, and thus your monthly payment, may change if your property taxes or insurance premiums increase.
Determining Cash to Close on Your Mortgage
There are other costs, fees, and charges that are required to close your mortgage beyond your monthly payments in the future. Loan costs include origination charges, points that you may be paying to lower your interest rate, as well as other application and underwriting fees. The cost of the home's appraisal is also included in your closing costs. Lastly, title company fees, recording fees, homeowners insurance, property tax, mortgage insurance premiums, and other prepaid items may be included in your total. You may be able to shop around for some of these services, which will also be outlined in this section.
Your loan estimate is an important document that outlines what you will pay for your new mortgage. Whether you are purchasing or refinancing, it is important to start with the right loan officer and mortgage lender. For over 90 years, the experts at Standard Mortgage (NMLS#44912) have been helping their clients through every step of the mortgage process.