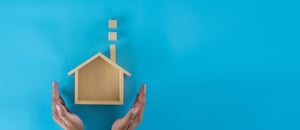 While renting a home has its advantages including little to no responsibility, predictable monthly expenses, and low maintenance, owning a home is often considered in the U.S. to be the American Dream. Homeownership brings tangible benefits including stability, belonging to a community, pride of ownership, the ability to build equity and participate in the real estate market upside, and possible tax deductions.
Tax Benefits for Homeowners
While owning a home and paying your mortgage each month is a long-term investment, there may be tax benefits that you can take advantage of each year. The interest you pay as part of your mortgage payment may be tax-deductible. This deduction can create significant savings each tax season, especially in the early years of your mortgage when more of your payment is applied to interest. You should discuss these potential tax benefits with your tax preparer.
Build Equity
Instead of paying your landlord or a corporation each month, when you pay your monthly mortgage you are investing in your own home's equity. While you pay down your mortgage there is also a good chance that your property value will increase over time. A recent Home Price Insights Report found that the average home price increased 18% from August 2020 through August 2021, marking the largest annual gain in home prices in the 45-year history of the CoreLogic Home Price Index. Your home value will depend on the location of your specific home. With the rise in home prices, the money you spend on your mortgage today may generate a nice return down the road if you sell your home to upgrade or downsize.
Improving Credit
As opposed to making monthly rent payments, paying down your mortgage every month (on time) will improve your credit score. There is an initial inquiry to your credit when you are in the process of getting qualified for your mortgage, however, long-term, on-time payments, will count as responsible debt and outweigh any negative impacts from the initial inquiry.
Renting
There are both pros and cons of renting. It is a good idea to consider these if you are thinking about making a change:
Pros:
You can move easily without a penalty when your lease is up

Predictable monthly expenses, which are likely lower than a house payment

No responsibility to fix things when they break (contact your landlord!)

Less time and commitment than homeownership
Cons:
Rent typically increases with every annual renewal

You are not receiving any of the possible tax benefits associated with homeownership

You must follow the rules of your landlord and could potentially be evicted if your landlord sells your building or home

You are likely to move more often while renting as compared to owning
For over 90 years, the expert staff at Standard Mortgage (NMLS#: 44912) have been helping homebuyers purchase and refinance their homes. Find a loan officer in your area and take the first steps toward purchasing a home.