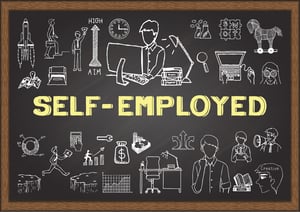 When you own your own business, or are otherwise self-employed (ownership of 25% or more of a business), and are looking to buy a new home, there are a few things you need to pay extra attention to in order to qualify for a mortgage. While the application and requirements are the same for everyone, the main difference is that you need to verify and confirm your income, where employees of companies can have their payroll or HR departments do that.
While providing the documentation required to verify your income is a crucial step, you also need to keep your DTI (debt-to-income) ratio in check. Requirements vary based on the loan program you are applying for, but you should aim to keep your DTI below 45%. Your credit score is also critical. The higher your credit score, the better your chance of being approved for a mortgage. Also, a higher credit score will qualify you for lower interest rates, saving you money in the long run.
So now that you've established your own business let's look at how you can become the queen or king of your own castle as well.
What Do Mortgage Lenders Look for in a Self-Employed Applicant?
For self-employed applicants, mortgage lenders need to be able to verify the aspects of your income. Income stability, the financial performance of your business, and the future outlook of your business's financial health will all be considered. You'll also need to provide the location and nature of your self-employed status.
What Income Documents are Needed for a Mortgage Application?
As a self-employed individual, your employment verification will be critical for your lender. Verifying your employment can be done by providing various business documents, such as:
2 years of most recent personal tax returns

2 year of most recent business tax returns

Current year to date income statement

A state or professional license for your business

The contact information for your CPA (certified public accountant)
How Should Your Business Expenses be Treated When it Comes to Applying for a Mortgage?
Because you run a business, you have more than just your personal expenses for which you're responsible. It is crucial to keep your business expenses separate from your personal liabilities. You should keep separate records, credit accounts, and spending summaries for anything spent on the business. Using your personal credit or funds on the business can have a negative impact on your application.
Being self-employed or owning a business doesn't make the home buying process more challenging; it simply has some other considerations and requirements that your loan officer needs to include. For over 90 years, the expert team at Standard Mortgage (NMLS#: 44912) has been helping prospective homebuyers realize the dream of homeownership.