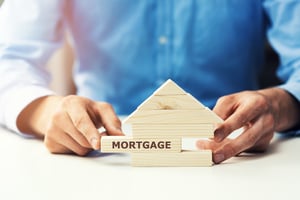 When looking for a new home there are a lot of things to consider. From the location, commute time, school, size, price, style, and space the options seem limitless. Choosing a mortgage is similar. There are several factors that will influence your decision to purchase a home and there are a variety of considerations when deciding which mortgage is right for you. While the goal of each mortgage is the same, to help fund the purchase of your home, the requirements of the different loan products vary to accommodate customer's financial situations. Here is what you need to know about each product to help you determine the right one for you.
What is a Fixed-Rate Mortgage?
A fixed-rate offers exactly what its name suggests, an interest rate that remains the same for the life of the loan. This type of mortgage has a variety of terms, with 15-year and 30-year terms being the most prevalent. With a fixed rate mortgage your monthly principal and interest payment remains the same.
What is an Adjustable-Rate Mortgage?
An adjustable-rate mortgage (ARM) is a loan that has a low-interest rate for a limited period of time. This introductory rate is typically 2 to 3 percent lower than a comparable fixed-rate mortgage. However, as the name implies, after a certain period, the rate may increase based on market conditions. When rates go up, so will your monthly principal and interest payments, inversely, as rates go down, your monthly payment may be reduced.
What is a FHA (Federal Housing Administration) Loan?
FHA loans were designed to offer affordable mortgages to homebuyers. This loan is insured by the government. An FHA loan has a lower credit score threshold and down payment requirement as low as 3.5%. However, these loans also require a mortgage insurance premium that is a percentage of the purchase price, as well as annual mortgage insurance paid for the life of the loan. The 2019 maximum amount for a general FHA loan is $314,827.
What is a USDA Rural Development Loan?
The USDA Rural Development loan program is another government-backed mortgage. A rural development loan has geographic and income requirements for eligibility, but does not require a down payment, and features lower mortgage insurance rates.
What is a VA (Veteran's Administration) Loan?
The U.S. Department of Veteran's Affairs loan program is a part of the 1944 GI Bill. A VA loan provides the opportunity for active or retired military personnel to purchase a home with no down payment or mortgage insurance, as well as attractive fixed rates.
What is a Jumbo Loan?
A jumbo loan is any mortgage with a balance that exceeds the borrowing limits of a conforming mortgage, which is $484,350 in most states in 2019. Jumbo mortgage loans are a convenient way to finance a property rather than getting two confirming loans in order to meet down payment requirements.
So, no matter your situation or needs, there is a home loan available for you. The experts at Standard Mortgage (NMLS#: 44912) have been helping homebuyers find the best loan for them.