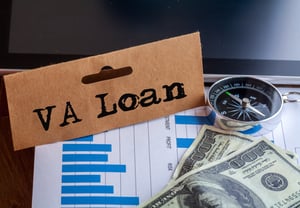 One requirement of a VA loan (Veteran's Administration) is their funding fee. This is a one-time payment that the Veteran, service member, or survivor pays on a VA-backed or VA-direct home loan. This fee helps lower the cost of the loan for U.S. taxpayers since the VA home loan program doesn't require a down payment or monthly mortgage insurance. This is a fee that is unique to VA mortgages and may be paid at once or financed as a part of your mortgage over the life of your loan. The amount of your funding fee depends on a variety of factors, including:
• The type of loan
• The amount of the loan
• Whether or not you are a first-time homebuyer
• Your down payment amount.
Effective April 7, 2023, the VA reduced its' funding fee. Down payment and VA funding fee amounts are expressed as a percentage of the total loan amount.
The reduced funding fee is applicable for first-use VA loans with a down payment of less than 5%: the fee will be 2.15% (formerly 2.3%). A down payment of 5% to 10% will have a funding fee of 1.5% (formerly 1.65%). A down payment of more than 10% of the purchase price will have a funding fee of 1.25% (formerly 1.4%). For example: Let's say you're using a VA-backed loan for the first time, and you're buying a $200,000 home and paying a down payment of $10,000 (5% of the $200,000 loan). You'll pay a VA funding fee of $2,850, or 1.5% of the $190,000 loan amount. The funding fee applies only to the loan amount, not the purchase price of the home. These new funding fee rates begin on loans that are closed between April 7, 2023, and November 14, 2031.

While these reductions may seem small, they can make a big difference in the total amount and cost of your VA loan. The expert staff of loan officers at Standard Mortgage is experienced in helping our military service members and their families when it comes to purchasing a home.