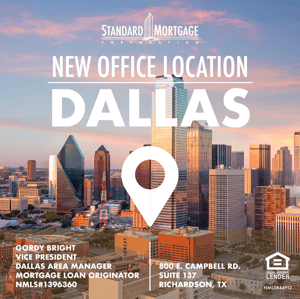 Dallas, TX: Standard Mortgage Corporation has expanded, opening its newest office location at 800 East Campbell Rd., Suite 137 in Richardson, TX. Vice President and Dallas Area Manager, Gordy Bright will be serving Texas clients from this office. Gordy has an MBA from Southern Methodist University and is a licensed mortgage originator (NMLS#1396360) in Colorado, Texas, and Louisiana.
"Standard has serviced loans in Texas for many years, and it made sense to expand our retail presence into our neighboring state," says Ella Baldwin, Sr. VP of Marketing. The addition of a Dallas retail location is an effort on the part of Standard Mortgage to provide the same professional and experienced loan services to residents of Texas that have long been available throughout the state of Louisiana.
Services provided at the new location include a variety of mortgage product options for new home purchases, refinances, and cash-out refinances. To learn more, call (214) 509-8929, visit www.stanmor.com, or email Gordy at gbright@stanmor.com .
About Standard Mortgage Corp. (NMLS #44912): Standard Mortgage, an Equal Housing Lender, originates and services mortgage loans secured by single-family properties. They have established relationships with credible investors including Fannie Mae, Freddie Mac, FHA, and several other capital sources. These investors provide Standard Mortgage with strong, reliable capital sources to finance all property types and deal structures. For more information about Standard Mortgage Corporation, a licensed lender and servicer, visit www.stanmor.com or follow them on Twitter – @stan_mortgage.