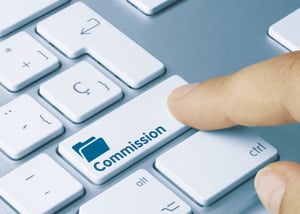 For salespeople and other commission-driven professionals, there may be a range of money you make in a given year. While this type of compensation is not guaranteed like a standard salary, there are ways for homebuyers in this pay structure to prove to lenders they have a steady, reliable income.
One of the most essential factors for any mortgage lender underwriting your loan is the verification of income. The lender needs to be assured that you have the capability and income needed to repay this loan over time. Typically, loan officers need to verify at least two years' worth of tax returns that represent your earnings. These documents include your previous two year's W-2s, recent pay stubs, and recent commission checks from your employer. The reason behind these requirements is to prove that you have the income ability to support the monthly payment on your home loan.
Whether you've been in a commission-based position for years or recently accepted a role with a compensation package based on commission, there are mortgage options for you. Let's take a closer look.
FHA Loans for Commission Based Applicants
FHA borrowers need to provide copies of their two most recent tax returns and timely pay stubs. Income is typically based on the average commission earned over the two most recent years; this provides consistent, reliable earnings history.
Fannie Mae Conventional Loans for Commission Based Applicants
A minimum history of 2 years of commission income is recommended. Commission income that has been received for 12-24 months may be acceptable income as long as there are positive factors such as credit score, DTI, and cash reserves to name a few.
Freddie Mac Conventional Loans for Commission Based Applicants
Freddie Mac conventional loans need at least two years of commission-based income verification with the expectation that it will continue for several more years.
VA Loans for Commission Based Applicants
VA loans are available for current and former military service members. It is not uncommon for veterans to take on commission-based roles, which does not hinder their opportunity to qualify for a VA-backed home loan. Some common income documentation required includes:
The basis of compensation payments

Year-to-date totals of commission paid

The frequency of commission payments
What Types of Income Documentation is Required for Commission-Based Earners?
There are several different types of documentation that can be presented to verify a track record of commission earnings. Previous year's tax returns can show a satisfactory record of consistent commission income. W-2s, written employment verification, and previous paystubs are also often acceptable income verification documents.
For over 90 years, the experts at Standard Mortgage (NMLS#: 44912) have been helping home buyers across the country purchase and refinance their homes.