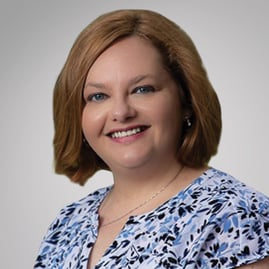 Kenner native and Tulane alumna, Stacie Kerry, now serves the greater New Orleans area and beyond by helping make their homeownership dreams a reality. Spending her early career in retail and marketing has helped to prepare her for serving her clients as a loan officer at Standard Mortgage.
Stacie works in the Metairie office and enjoys the family feel of suburban New Orleans. "There are lots of transplants from all over the county that are excited about moving to a new city," says Stacie. Helping first-time homebuyers is her favorite aspect of the job. "They have lots of questions and I enjoy explaining the process and providing them peace of mind. It's very gratifying."
Working for a local lender like Standard Mortgage, and the fact that Standard retains all of their loans allows Stacie to service all of her clients throughout the life of their mortgage. "We can interact with all facets of the company and offer better service as a family-owned business."
When Stacie isn't working for her clients she enjoys being active in her church, serving the community and sharpening her photography skills around the Crescent City.