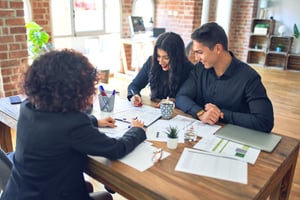 How does a mortgage work? How much of a home can I afford? These are all common questions that homebuyers and homeowners all have constantly running through their heads. If you are in the market for a home, there are some important questions that your loan officer should be able to answer. Let's take a closer look at five important questions to ask your lender.
What's the Difference Between Being Prequalified and Preapproved for a Mortgage?
A pre-qualification simply provides an estimate of how much a buyer can afford to spend on a home. A pre-approval is an agreement between a buyer and lender for a specified period of time that states that they are eligible to finance up to a specific amount for the purchase of a home. This happens after a lender has verified a borrower's credit score and other financial documents. With this information, different loan options can be discussed, and the buyer will know exactly how much they have to spend.
How Do I Qualify for a Mortgage?
Your loan officer will take a look at your current financial situation, analyze it, and provide the steps that need to be taken, if any, in order to qualify for the best loan. Your credit scores, assets (checking and savings accounts), income, and debt are all crucial factors that lenders consider.
What Does a Monthly Mortgage Payment Include?
Understanding your monthly obligation and what makes up your mortgage payment is crucial. Your monthly mortgage is comprised of the following: principal, the amount that goes towards your loan balance and interest, the amount that you pay for borrowing the money. Your payment may also include an escrow amount that would include homeowners insurance, flood insurance (if required), and property taxes. These are collected monthly and placed in an escrow account to be paid by your lender annually. Lastly, depending on your loan type your payment may also include mortgage insurance.
What are Closing Costs?
Closing costs are charges in excess of your down payment due at the closing of your real estate transaction. Closing costs may include, origination or underwriting fees, title services, recording fees, pre-paid escrows (if necessary), and other expenses. Typically closing costs range from 3%-6% of the total purchase price. Your lender will provide you with an estimate (loan estimate) upfront and a final closing disclosure with your costs three days before your closing.
Will You Sell My Loan After I Close?
Once your loan is processed and closed, many lenders will sell your mortgage to another company, ending your relationship with your loan officer and original lender. Standard Mortgage Corporation (NMLS#: 44912) does not sell the servicing of their loans. Once you originate and close your loan with Standard, they will service it for the life of your mortgage. This commitment to customers provides the highest level of service for your biggest investment.
For over 90 years Standard Mortgage has helped homebuyers across Louisiana and the southeast find the best mortgage solutions for their needs.